Offering: FREE ESTIMATES
for ALL Repairs on All MAKES & MODELS, Insurance or Selfpay.
NO APPOINTMENT NEEDED!



Providing the Friendliest Complete Collision Service
for Over 35 Years
Est. 1978

At

Gifford Auto Body

we offer a wide range of quality services that surpass all others. We realize body damage can be an emotional strain as well as a terrible inconvenience. We will work with all customers and insurance companies to achieve complete and proper repairs and we guarantee our work for as long as you own your car.

Our Shop has Certified Technicians who will diagnose and restore all vehicles to the manufacturer's specifications. Gifford Auto Body uses the latest technology in estimating, collision repair, frame work, alignment, painting and all other facets of the repair process. Our employees are ASE Certified in many areas including Damage Analysis and Estimating, Collision Repair, and Painting and Refinishing.

If you are in need of collision repair, custom painting or restoration,
trust the collision repair specialists at
Gifford Auto Body.

lAll Auto Body Services lCollision Repair lPaint Booth with Oven
l Insurance Repair lForeign or Domestic lTowing Available
lAny Make or Model lEnterprise Car Rentals
lChevrolet Corvette Specialist


Using the most Current Technological Diagnostic Equipment to carry out repairs is our guarantee to provide you, our customer, with the
Absolute Best Services Possible.
Investing in Higher Technological Equipment is like investing in our patrons and is just another way we'd like to show our Thanks to our Customers.

Our Shop Equipment Includes:
Paint System:
DUPONT Superior Paints
Computerized Matching & Mixing System
Though there are many functions when repairing a vehicle, from frame straightening to part replacement and such, it's the painting process that is one of the utmost extensive and important. That's why we at Gifford Auto Body invested in our own Computerized Paint Matching and Mixing system to better serve you, our customer.
With our mixing machine in place and stocked with Dupont's Highest Quality Automotive Paints we will be ready to mix your vehicle's color at anytime. Newly equipped with DuPont ChromaVision®, not only can we use the paint code
from your car to obtain the correct match but now we are able to use a specially designed camera (ChromaVision®) to read the paint color on any and every vehicle or item. Once the color is scanned by the camera it is transmitted to ColorNet®, a computerized paint matching system, which compares that reading to the ChromaSystem™ formulas and
alternates, then retrieves or creates the color formula needed. With this system in house, color-matching is never a question, it's as good as done.
(What a great complement to our Guardian Down-Draft Spray Booth with Oven.)
"DuPont Performance Coatings - Refinish Systems is the largest global manufacturer of coatings for aftermarket car repair. Auto body shops throughout the U.S. depend on DuPont finishes for productivity and the ultimate in color match."
Guardian Downdraft Spray Booth with Oven
Creating the Highly Desired Baked-On Finish

The Downdraft Spraybooth has two major functions: to provide a clean working environment for paint refinishing, and efficiently remove paint overspray from the booth.
Down-Draft Spray Booths are Booths with a Pit or an elevated Metal Basement. Air is drawn from the upper levels of the shop or from the outside and filtered through a bank of Ceiling Filters down and through the work-area, passing around the vehicle, into the Exhaust Filters on the floor of the Spray Booth. The oven leaves a baked on finish leaving the vehicle looking like it is off the showroom floor.


Our Estimating System:
Mitchell's Ultramate
Stop in for a FREE ESTIMATE during hours of operation, NO APPOINTMENT NESSCESSARY.
We rely on Ultramate for our vehicle repair estimating needs. "UltraMate is Mitchell's advanced estimating system that comes equipped with proven technology to help you automatically create estimates that are accurate, verifiable, and readily accepted throughout the industry. UltraMate combines industry-leading database accuracy with automated calculations and repair procedure pages that virtually eliminate errors."

Our Measuring and Frame Straightening Equipment:

Chief EZ Liner II Frame Machine


Total damage analysis and repair of unitized body vehicles are realized in the Chief EZ Liner II System. Using the Chief E-Z LINER II Frame & Body Squaring System, we are capable of restoring frames & body back to manufactures specifications. The Chief EZ Liner II System gives us the tools necessary for structural damage analysis and repair, from the precision Universal Gauge Measuring System to the pulling and anchoring attachments, we use Domestic and Imported Vehicle Specification Manuals to give us the dimensions for accurate body repair.

Tru-Point Collision Frame Measuring System


The Tru-Point is a camera-based measuring system that delivers fast diagnostic readings. The portable design, advanced software and ease of use makes it a powerful tool for estimating and light repairs.


How the Tru-Point Works
The Tru-Point is rolled into place anywhere in the shop.
The technician enters the vehicle information, selects the area to be measured.
The technician measures all relevant points by probing them in sequence with prompts from the software.
The measurement results are then compared to comprehensive manufacturer specifications. Any out-of-spec measurements are identified with color-coded results including deviations and hidden damage is revealed.
An easy-to-understand report alerts the technician to problem areas, and pre and post repair documentation can be provided to the insurance company.
Estimating accuracy is improved as time required to fix hidden issues is included and backed up with measurement details.
Tru- Point Captures all critical measurement points, including:
- Body Openings - Ball Joints -
- Roof Lines - Pillars - Wheel Base -
- Suspension - Underbody -
- Upperbody -
Tru-Point Sonic 360
Award-Winning Ultrasound Technology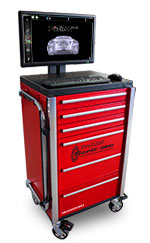 The Tru-Point Sonic 360, an update to our Shark system, is a computerized electronic measuring system that relies on ultrasound technology to collect measurements and track repairs. Emitters on probes are attached to the vehicle at specific points and send ultrasonic signals that are received by high-frequency microphones located in the light-weight extruded aluminum beam. The results are compared to manufacturer specs and any problem areas are identified automatically. This leaves the operator free to concentrate on straightening, not on collecting measurements. Providing live "measure-as-you-pull" functionality, the Tru-Point Sonic 360 practically eliminates rework resulting in accurate measurements the first time, every time.

New Jersey State License-01281A | ASE Certified Mechanics
245 North Main Street Manville, NJ 08835 | Giffordautobody@optonline.net
Phone: 908-526-3570| Fax: 908-526-0636